---
Crime Stoppers 7th annual Bowl-A-Thon
Crime Stoppers of Columbia County is a 501c3 program that received funds from the state to run its program. It often takes more than just grant funds to successfully run this program, and we are looking to our community for some help. On December 7th 2019 the Bowling alley here in Lake City will be hosting Bowl -A- thon to help raise funds to assist in the day to day operations of our program. The fund raiser is only limited to 16 teams so first come first serve. If you would like to participate please contact Brian at 386-755-2206 ,Cindy at 386-758-1104 or Clint at 386-754-3949 to reserve a spot and learn how to participate. If it were not for the communities support we could not survive.
---
UPDATE: Missing Endangered Mary Robertson
As of May 2, 2020 the reward has been increased to $10,000*
(Please see terms and requirements below)
Update: Missing Person Mary Robertson
A reward of up to $10,000.00 is being offered for information leading to the whereabouts of Mary Robertson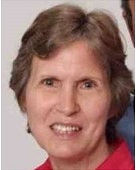 On Wednesday, May 6, 2015 at approximately 12:00 pm, Mary Robertson was last seen in the area of SW Barwick Terrace and SW Parker Lane in Lake City, Florida. Mary requires medication and suffers from dementia. She was last seen wearing a blue shirt, denim pants and dark blue flat shoes. For more information, click the Cases tab and select Missing Persons.
*Crime Stoppers will pay up to $1,000. An additional reward of up to $4,000 is being offered by an anonymous donor (this reward offer will expire on September 4, 2019). As of May 2, 2020, the Florida Sheriff's Association, partnering with the Columbia County Sheriff's Office and Crime Stoppers of Columbia County, is offering an additional reward of $5,000 as part of the Criminal Apprehension Assistance Program (this reward expires May 4, 2021).
Reward is subject to revocation or modification at any time without prior notice or approval. To be eligible for a reward, information must be provided directly to Crime Stoppers of Columbia County. Anyone contacting law enforcement will not be eligible.
Crime Stoppers is a country wide program designed to assist law enforcement agencies solve crimes. The program provides an anonymous tip line to encourage citizens in the community to provide information to assist law enforcement agencies fight against crime.
Crime Stoppers is based on the principle that "someone other than the criminal has the information that can solve the crime" and was created to combat the three major obstacles faced by law enforcement in generating that information:
Callers will remain anonymous and are eligible for a reward of up to $1000.00 if the information provided directly to Crime Stoppers leads to an arrest, the recovery of stolen property or the recovery or seizure of any illegal drugs or narcotics.